Tokyo Conference center Shinagawa
Price list/Floor plan


ZOOM
Hall

◆ Area:728㎡
◆ 9:00 - 12:00[3h] AM

-

◆ 13:00 - 18:00[5h] PM

¥600,000

◆ 9:00 - 18:00[9h] AM+PM

¥885,000

◆ 9:00 - 21:00[12h] All Day

¥1,100,000

◆ Extra 1h

¥100,000

◆ Early Morning(7:30 - 9:00)1h

¥126,000

◆ Capacity(Class-room)

500

◆ Capacity(Conference)

-

◆ Ceiling Height(m)

7.0

◆ Screen Size(W×H(m))

13.0 × 6.0
Hall A

◆ Area:353㎡
◆ 9:00 - 12:00[3h] AM

-

◆ 13:00 - 18:00[5h] PM

¥460,000

◆ 9:00 - 18:00[9h] AM+PM

¥570,000

◆ 9:00 - 21:00[12h] All Day

¥650,000

◆ Extra 1h

¥50,000

◆ Early Morning(7:30 - 9:00)1h

¥80,000

◆ Capacity(Class-room)

200

◆ Capacity(Conference)

-

◆ Ceiling Height(m)

7.0

◆ Screen Size(W×H(m))

13.0 × 6.0
Hall B

◆ Area:353㎡
◆ 9:00 - 12:00[3h] AM

-

◆ 13:00 - 18:00[5h] PM

¥460,000

◆ 9:00 - 18:00[9h] AM+PM

¥530,000

◆ 9:00 - 21:00[12h] All Day

¥650,000

◆ Extra 1h

¥50,000

◆ Early Morning(7:30 - 9:00)1h

¥80,000

◆ Capacity(Class-room)

200

◆ Capacity(Conference)

-

◆ Ceiling Height(m)

7.0

◆ Screen Size(W×H(m))

6.0 × 6.0
501

◆ Area:195㎡
◆ 9:00 - 12:00[3h] AM

-

◆ 13:00 - 18:00[5h] PM

¥236,000

◆ 9:00 - 18:00[9h] AM+PM

¥339,000

◆ 9:00 - 21:00[12h] All Day

¥453,000

◆ Extra 1h

¥48,000

◆ Early Morning(7:30 - 9:00)1h

¥58,000

◆ Capacity(Class-room)

98

◆ Capacity(Conference)

52

◆ Ceiling Height(m)

3.5

◆ Screen Size(W×H(m))

4.3 × 3.2
Speaker's lounge

◆ Area:50㎡
◆ 9:00 - 12:00[3h] AM

-

◆ 13:00 - 18:00[5h] PM

-

◆ 9:00 - 18:00[9h] AM+PM

¥50,000

◆ 9:00 - 21:00[12h] All Day

-

◆ Extra 1h

¥20,000

◆ Early Morning(7:30 - 9:00)1h

¥30,000

◆ Capacity(Class-room)

-

◆ Capacity(Conference)

-

◆ Ceiling Height(m)

3.5

◆ Screen Size(W×H(m))

-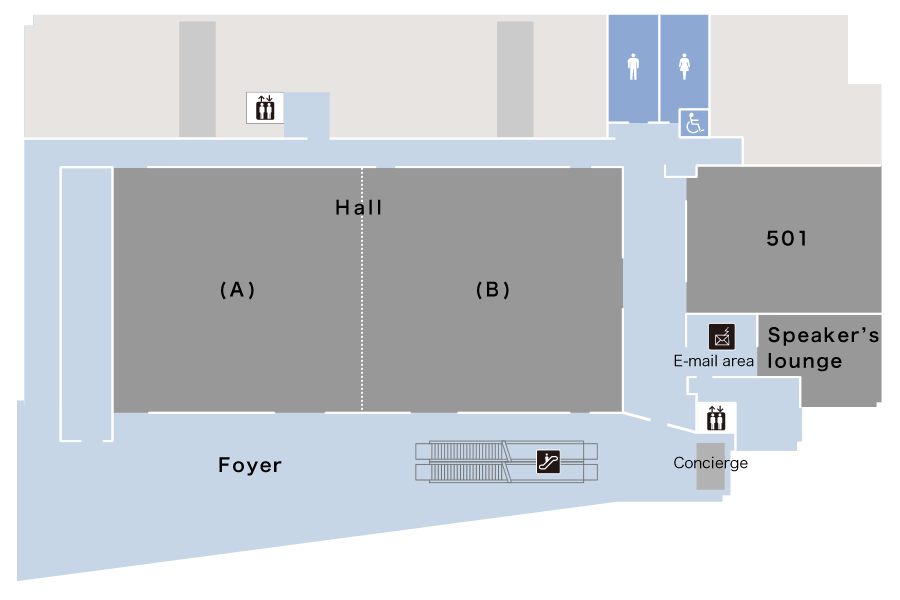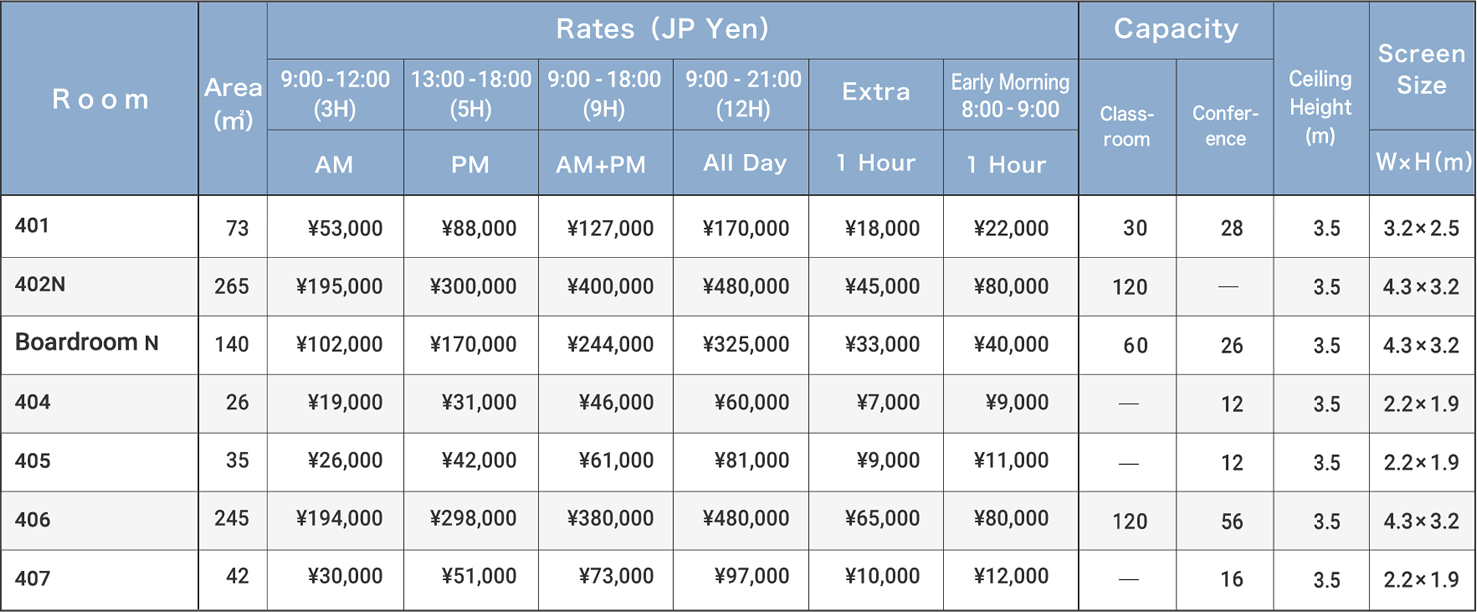 ZOOM
401

◆ Area:73㎡
◆ 9:00 - 12:00[3h] AM

¥53,000

◆ 13:00 - 18:00[5h] PM

¥88,000

◆ 9:00 - 18:00[9h] AM+PM

¥127,000

◆ 9:00 - 21:00[12h] All Day

¥170,000

◆ Extra 1h

¥18,000

◆ Early Morning(7:30 - 9:00)1h

¥22,000

◆ Capacity(Class-room)

36

◆ Capacity(Conference)

28

◆ Ceiling Height(m)

3.5

◆ Screen Size(W×H(m))

3.2 × 2.5
402N

◆ Area:265㎡
◆ 9:00 - 12:00[3h] AM

¥195,000

◆ 13:00 - 18:00[5h] PM

¥300,000

◆ 9:00 - 18:00[9h] AM+PM

¥400,000

◆ 9:00 - 21:00[12h] All Day

¥480,000

◆ Extra 1h

¥45,000

◆ Early Morning(7:30 - 9:00)1h

¥80,000

◆ Capacity(Class-room)

150

◆ Capacity(Conference)

-

◆ Ceiling Height(m)

3.5

◆ Screen Size(W×H(m))

4.3 × 3.2
Boardroom N

◆ Area:140㎡
◆ 9:00 - 12:00[3h] AM

¥102,000

◆ 13:00 - 18:00[5h] PM

¥170,000

◆ 9:00 - 18:00[9h] AM+PM

¥244,000

◆ 9:00 - 21:00[12h] All Day

¥325,000

◆ Extra 1h

¥33,000

◆ Early Morning(7:30 - 9:00)1h

¥40,000

◆ Capacity(Class-room)

60

◆ Capacity(Conference)

26

◆ Ceiling Height(m)

3.5

◆ Screen Size(W×H(m))

4.3 × 3.2
404

◆ Area:26㎡
◆ 9:00 - 12:00[3h] AM

¥19,000

◆ 13:00 - 18:00[5h] PM

¥31,000

◆ 9:00 - 18:00[9h] AM+PM

¥46,000

◆ 9:00 - 21:00[12h] All Day

¥60,000

◆ Extra 1h

¥7,000

◆ Early Morning(7:30 - 9:00)1h

¥9,000

◆ Capacity(Class-room)

-

◆ Capacity(Conference)

12

◆ Ceiling Height(m)

3.5

◆ Screen Size(W×H(m))

2.2 × 1.9
405

◆ Area:35㎡
◆ 9:00 - 12:00[3h] AM

¥26,000

◆ 13:00 - 18:00[5h] PM

¥42,000

◆ 9:00 - 18:00[9h] AM+PM

¥61,000

◆ 9:00 - 21:00[12h] All Day

¥81,000

◆ Extra 1h

¥9,000

◆ Early Morning(7:30 - 9:00)1h

¥11,000

◆ Capacity(Class-room)

-

◆ Capacity(Conference)

12

◆ Ceiling Height(m)

3.5

◆ Screen Size(W×H(m))

2.2 × 1.9
406

◆ Area:245㎡
◆ 9:00 - 12:00[3h] AM

¥194,000

◆ 13:00 - 18:00[5h] PM

¥298,000

◆ 9:00 - 18:00[9h] AM+PM

¥380,000

◆ 9:00 - 21:00[12h] All Day

¥480,000

◆ Extra 1h

¥65,000

◆ Early Morning(7:30 - 9:00)1h

¥80,000

◆ Capacity(Class-room)

132

◆ Capacity(Conference)

56

◆ Ceiling Height(m)

3.5

◆ Screen Size(W×H(m))

4.3 × 3.2
407

◆ Area:42㎡
◆ 9:00 - 12:00[3h] AM

¥30,000

◆ 13:00 - 18:00[5h] PM

¥51,000

◆ 9:00 - 18:00[9h] AM+PM

¥73,000

◆ 9:00 - 21:00[12h] All Day

¥97,000

◆ Extra 1h

¥10,000

◆ Early Morning(7:30 - 9:00)1h

¥12,000

◆ Capacity(Class-room)

-

◆ Capacity(Conference)

20

◆ Ceiling Height(m)

3.5

◆ Screen Size(W×H(m))

2.2 × 1.9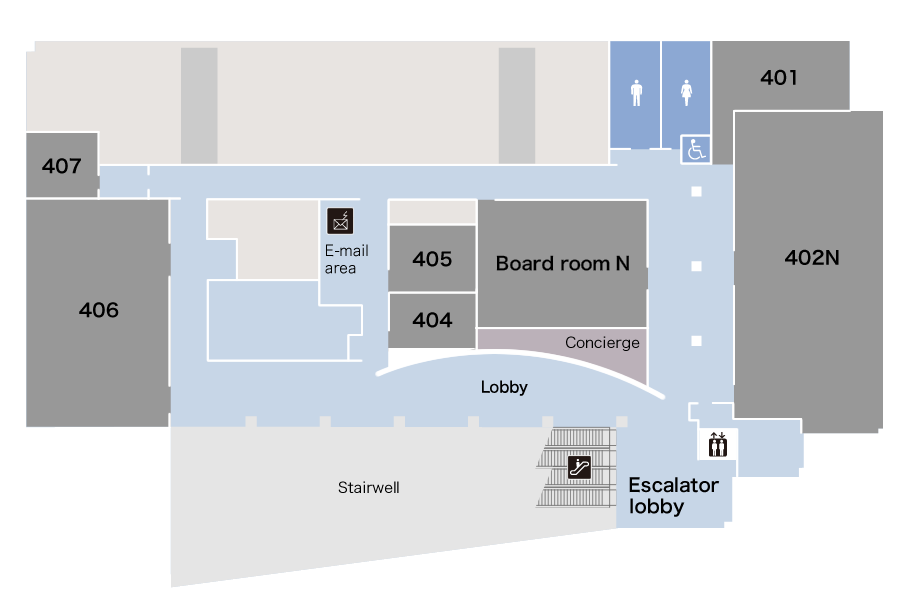 * The above rates are subject to change without advance notice
* The above rates are subject to 10% service charge and 8% VAT.
Step By Step
1.Introduction

Please contact us by telephone or email. Our Sales & Marketing staff will personally provide complete details regarding the functions and services of the facility. We also offer on-site tours of our facilities, by reservation only.

2.Estimates

Following consultation, we will present an estimate and detailed layout plan of your particular conference event for your review and consideration.

3.Reservation

Please complete and send us the "Tokyo Conference Center Shinagawa Application Form." If party services are required, also complete and send us the "Food and Beverage Application Form."

4.Deposit

Upon receipt of your reservation forms, you will be billed for payment of the deposit (30% of the room charge). Please complete this payment by bank transfer or cash within 14 days from the billing date. After confirmation of payment, your reservation is fixed.

5.Pre-conference Consultation

We ask our guests to meet with the staff in order to arrange layouts, equipment and other services, based on the purpose and needs of the event.

6.Day of Conference

Our Conference Service Staff will oversee and support every detail of your conference, from arrival to departure of participants, in order to ensure a smooth and successful event.

7.Final Payment

Your final bill will reflect charges from the day of the conference. Guests are kindly asked to complete payment within one month after use of the facility.



Note: Please see our Terms of Servicefor cancellation charges.
To view PDF files,
Adobe® Acrobat®Reader,
is required.